Yaesu G-5500 (Inclusief 2 connectorsets)
Rotor met elevatie.
Recommended Application
For Space/Satellite Communication.
Wind Load
1.0 m²
K-Factor (Turning Radius x Weight of Ae)
60
Stationary Torque
AZ: 4,000kg/cm; EL: 4,000kg/cm
Rotation Torque
AZ: 600kg/cm; EL: 1,400kg/cm
Max Vertical Load
30kg
Max Vertical Intermittend Load
100kg
Backlash
AZ: 1º; EL: 1º
Mast Size
AZ: 38 - 62 Φ; EL: 38 - 62 Φ
360º Rotation Time
AZ: 70sec @ 50Hz
180º Elevation Time
EL: 80sec @ 50Hz
Boom Diametre
EL: 32 - 43 Φ
Rotator Diametre x Height
186 Φ x 254(W) x 350(H)
Weight
7.8kg
Cable Requirement (# cores/wires)
2 x 6 (1 for each AZ + EL)

Power Supply Voltage
117 VAC, 50-60 Hz
Power Supply Current Consumption
120 VA
Rotor Voltage
24 VAC
Cable Conductors Required
6 and 6
Rotation Time (Non Loaded)
Elevation (180°): 67 sec at 60 Hz
Azimuth (360°): 58 sec at 60 Hz
Rotation Range
Elevation: 180°
Azimuth: 450°
Rotation Torque
Elevation: 101 foot-pounds (1,400 kgf-cm)
Azimuth: 44 foot-pounds (600 kgf-cm)
Braking Torque
Elevation : 289 foot-pounds (4,000 kgf-cm)
Azimuth: 289 foot-pounds (4,000 kgf-cm)
Maximum Vertical Load
Elevation: 30 kg or less
Azimuth: 440 Lbs. (200 kg) or less
Mast Outside Diameter
1.5-2.5 inches (38 to 63mm)
Boom Outside Diameter
1.24-1.675 inches (32 to 43mm)
Braking Type
Mechanical and Electrical stoppers
Wind Loading Area
1.0 m2 or less
Maximum Continuous Duty
5 minutes
Operating Temperature Range
0°C to +40°C (Controller)
0 -20°C to +40°C (Rotator)
Rotator Dimension
10 x 13.75 x 7.5 inches
Rotator Weight
20 lbs (9 kg)
Controller Dimension (WHD)
200 x 130 x 193 mm
Controller Weight
6.6 lbs. (3 kg)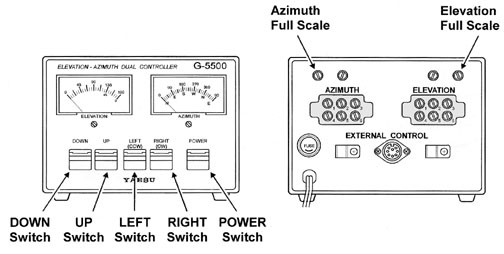 Customer Reviews
Niets dan goeds over melden


Review by

Halbe PA3HP

Sinds enkele maanden deze rotor in gebruik en ik kan er niets dan goeds over melden. Marcus had hem voor me meegenomen naar de dag vd amateur in Apeldoorn wat getuigd van een goede service. Installatie is eenvoudig, ik heb voor de bekabeling goedkoop 3 aderig snoer van de bouwmarkt genomen (6 X!!!) welke aan de bijgeleverde connectoren wordt gesoldeerd. Houd hiervoor wel de voorgeschreven diameter aan vooral met wat grotere lengtes. Als je de elevatie los van de azimuth wil gebruiken is een steunlager echt nodig vanwege het gewicht. Neem ook voor de rotor buis een wat steviger exemplaar (hier 44 staal). Rotor wordt door mij gebruikt voor 2 X 9 el. Yagi 2 meter , 1 X 21 el Tonna voor 70 CM ( az+el ), 3 el beam 6 M en een 4 bands hex beam voor HF (slechts azimuth). Besturing werkt naar tevredenheid en ik ben tot heden nog geen problemen tegengekomen wat resulteerd in een goede beoordeling. Tevens ben de G-5500 nog niet ergens anders tegengekomen voor deze prijs.